Een Songfestival is niet compleet zonder een fikse rel. Dit jaar is er niet eens een ESF, maar de gemoederen zijn opgelopen tussen twee van de grootste sterren uit de Ierse showbizzwereld, Johnny Logan en Dickie Rock. Johnny heeft in het verleden twee maal deelgenomen namens Ierland, en het daarbij niet onverdienstelijk gedaan, maar in onze kringen kennen we hem toch vooral als deskundig jurylid bij het NSF 2010, waar hij met zijn muzikale oor de vijf versies van Sha-La-Lie op waarde schatte. Dickie Rock deed in een nog verder verleden ook mee aan het ESF, maar is hier toch vooral bekend vanwege zijn introductie in het
landentopic
van Ierland.
Vorige week werd Johnny Logan geïnterviewd door de
Irish Times
. Een leuk stukje zo in de ESF-periode waarin het over het wel en wee van deze zanger zou gaan. Enigszins onverwacht liep Johnny echter helemaal leeg over zijn vakgenoot Dickie Rock, wat aanleiding werd voor een onderlinge strijd:
quote:

Just hearing his name [Dickie Rock] seems to set Johnny Logan off.

"What would Dickie Rock know about being a musician?" he asks, not expecting an answer. "My life was a lot different from Dickie's," he goes on, in what turns into a lengthy assessment of his own career versus Rock's. "Dickie's idea of an international tour was to have a gig in England. He bought a pub in Spain so he could gig there. That's the reality of it. We know Dickie in Ireland but go out of here and say 'Dickie Rock' and people will think you are talking about some kind of stone you'd find in a museum. (Een Dickie Rock-museum zou wellicht een gat in de markt zijn, red.).

"I love Dickie but he's a legend in his own head... He lives in a fantasy world. You know, I've sang for Pope John Paul, for the queen of England, for Prince Charles, for Lady Diana – when she was alive – for the government of Ireland, for every head of state in Europe . . . I toured with the Royal Symphony Orchestra. I've done the London Palladium, about 20 times, Top of the Pops about 14 times. Get Dickie to match one of those, you know? I'm still touring. And I'm busier now than ever." (Johnny is echt heel goed, red.).

I tell him what I am getting at with my question is the fact that Dickie Rock said his life as a star meant he wasn't a very good husband, though Rock also said his wife had forgiven him. "That's none of your business, Róisín," Logan says. "The short answer to whether I was a good husband is none of your business. Dickie is Dickie, I'm still here."
Deze teksten kwamen ook Dickie ter ore, en hij reageerde onthutst op deze aantijgingen. Zo onthutst zelfs dat dit vandaag de voorpagina was van kwaliteitscourant
The Irish Sun
: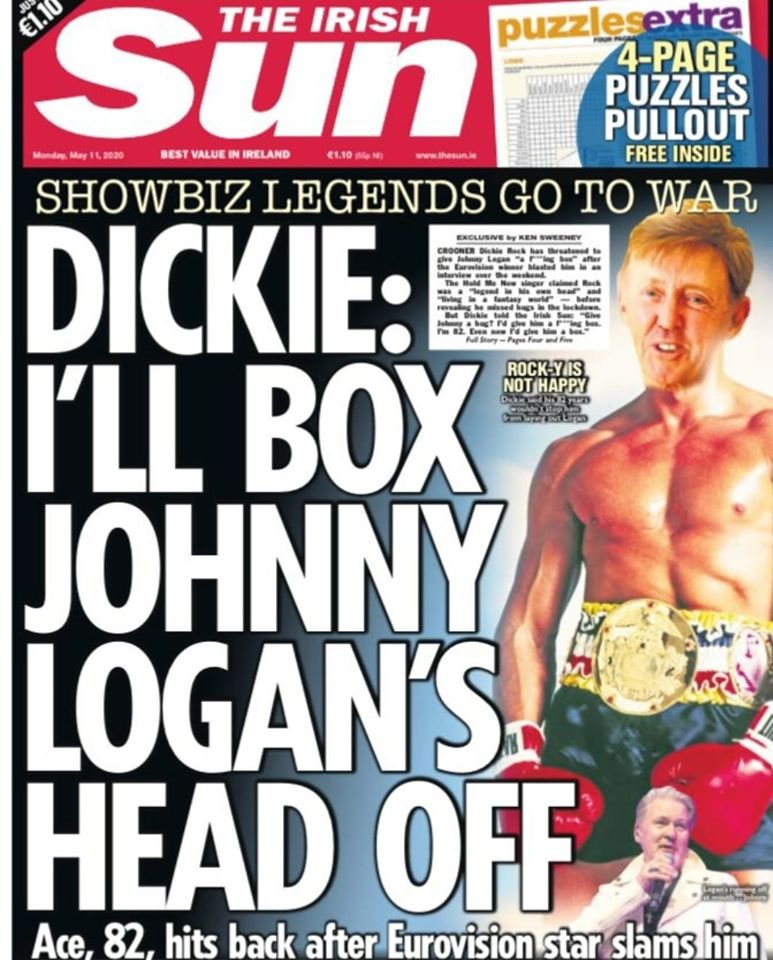 quote:

Singer Dickie Rock has threatened to give Johnny Logan "a f***ing box" after the Eurovision winner claimed the showband star lived in a "fantasy world". The two biggest legends of Irish showbusiness are at war after a weekend interview in which Johnny dissed Dickie.

Dickie told us: "I can't understand it because I always got on very well with Johnny Logan. There have been no incidents. "I praised him to the world and I praised him to everybody.

"Johnny seems to be blowing off his own achievements an awful lot. Johnny must be very insecure. His career is mostly abroad and he is very successful at it. I'm happy that Irish people know me. I am happy to be at home and not to have to go away to pursue success."

And the Candy Store singer outright denies a claim made by Johnny in the piece that he owned a pub in Spain. Dickie told us: "I don't have a pub in Spain. That's not true."

Logan had also reeled off a list of celebs he had sung in front of during the interview, including Pope John Paul, the Queen, Prince Charles and Lady Di. He added: "I toured with the Royal Symphony Orchestra. I've done the London Palladium about 20 times, Top of the Pops about 14 times. Get Dickie to match one of those, you know?" But Rock responded: "I've done the London Palladium, the Royal Albert Hall. I've played Carnegie Hall. (Dickie is ook heel goed, red.).

Johnny talks about playing for British royalty. "Well, I've worked with the king of Ireland in Monaco, Michael Smurfit, at his inauguration to be the Irish consul in Monaco. The Smurfits are Irish royalty." (En ze wonen ergens hier ver vandaan, waar paddenstoelenhuizen staan, red.).

Songwriter and multi-instrumentalist Johnny had also taken a dig at Dickie for not playing an instrument or penning any of his hits. But Dickie countered: "That's plain stupid. Frank Sinatra didn't write his songs, Elvis didn't write his songs. Yet they were the most amazing entertainers of all time. "Perhaps Johnny is unhappy deep in his heart? He had the looks. He had the height. He was a good-looking lad.

"I am still gigging too. I am doing a wedding in Kilshane House next October." The pensioner is under lockdown with his wife Judy at their Dublin home — and said he is taking three stairs at a time to help keep his fitness levels up.
Inmiddels heeft deze vete het land gespleten in een TeamJohnny en een TeamDickie, waartussen het hard tegen hard gaat:
Zelf ben ik natuurlijk niet geheel neutraal als er een cultheld van het kaliber Dickie Rock betrokken is bij de strijd, maar wat bent u: #TeamDickie of #TeamJohnny?